Sharpening And Setting Your Own Blades - An Introduction
By Wood-Mizer, Europe

The proper care of blades will ensure they stay sharp longer and can be sharpened multiple times. Wood-Mizer recommends to allow your blades up to one day to rest before they are placed back on the sawmill. This allows the metal to relax, and generally provides longer life.
Sharpening your own blades
Wood-Mizer supplies several blade sharpeners that are scaled toward different budgets and requirements so that you can confidently sharpen blades yourself. All Wood-Mizer sharpeners use the highest quality CBN grinding wheels that sharpen the full gullet each time, and come ready to sharpen.
Blade Sharpening Equipment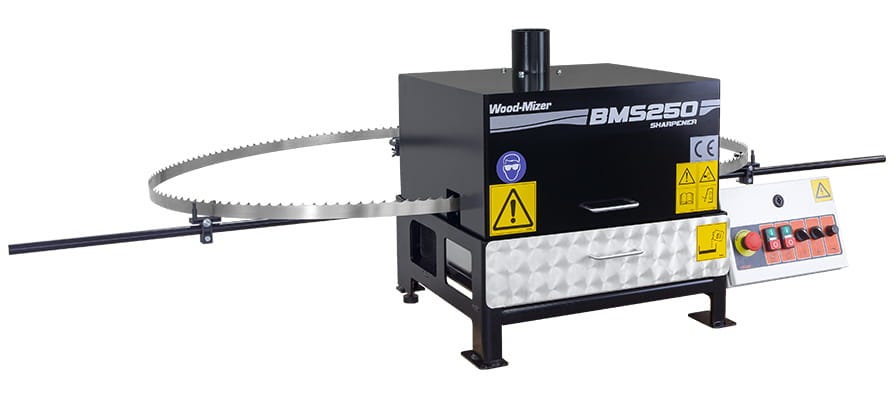 The BMS250 is ideal for the sawyer looking to invest in a high quality, automatic sharpener. It features an auto-shutoff, and has a heavy-duty hood to enclose the blade during sharpening that includes an exhaust vent. The BMS250 uses 127 mm grinding wheels, which come in various profiles. A scraper deburrs each blade automatically.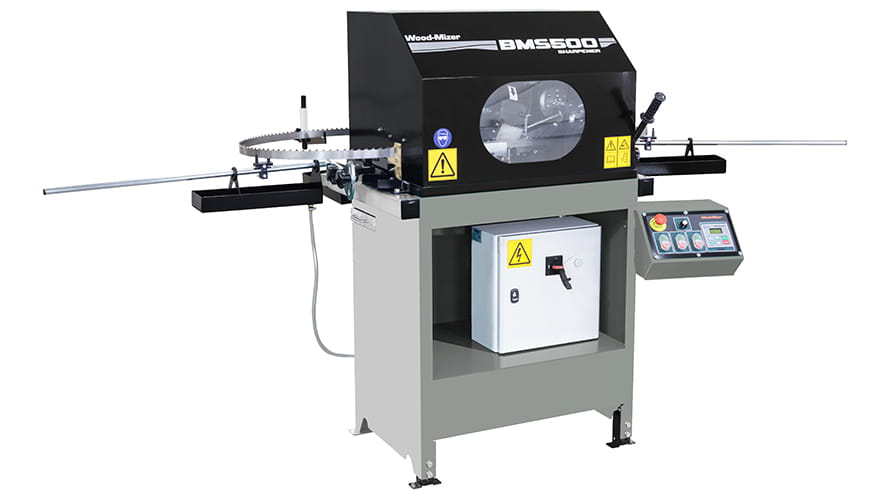 The BMS500 is designed for industrial blade sharpening. The 203 mm CBN grinding wheels provide a higher quality grind at higher speeds, increasing efficiency. The user-friendly control station includes a tooth counter display, variable grinding speed and can be quickly configured to stop after a custom number of teeth. A scraper deburrs each blade automatically.
The Sharpening Process
Step 1: Blade cleaning
Before removing the dulled blade from the sawmill, run the blade for 15 seconds, flooding it with lubrication to remove as much sap as possible. If this is insufficient to clean the blade, clean it with a wire brush.
Step 2: Sharpening
Grinding sharpens the tooth again and squares up each tooth face with the body of the blade. Wood-Mizer recommends only using CBN full profile blade sharpening. If you are sharpening with a standard grinding wheel, check that the full tooth profile is being evenly ground, and adjust the wheel profile or sharpener cam as needed. Full profile grinding is important, as cracks will form if an area is missed. Two sharpening cycles for each blade results in the best performance, and grinding should not be done too hard.
Step 3: Removing metal burrs
De-burring removes the small bits of extra metal left over from the grinding process. Wood-Mizer's BMS250 and BMS500 do this automatically, but for older sharpeners, it may be necessary to do it manually by scraping the inside of the blade with a wooden block. It is most important to remove the grinding burr from the top of the tooth, for accurate setting.
Step 4: Setting the teeth
Restoring set after sharpening is very important for ensuring continued blade performance. The set point should not be too low or too high, only the top 1/3 of the tooth should be set.
Setting your own blades
The pattern and amount of tooth set is very important for quality sawing performance. The offset teeth clear a path for the blade to pass smoothly through the wood. More set is required in fibrous softwoods than in hardwoods. Frozen wood requires a smaller kerf.
Too much set results in inefficient cutting with poor surface quality. Too little set results in too much sawdust that is unable to escape the cut, which heats up the blade. Generally, sawdust should be slightly warm and chip-like.
Toothsetters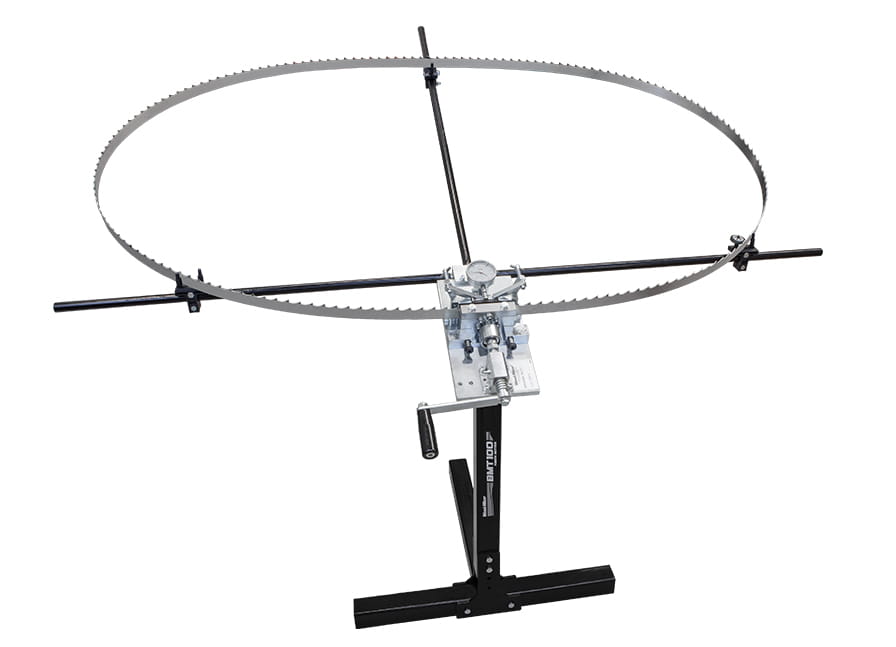 The BMT100 allows you to affordably maintain consistent tooth set on your blade. Operated by a hand crank, the BMT100 is a simple setter that sets all teeth consistently.
The BMT150 is an economical manually- operated dual toothsetter that sets teeth on both sides of the blade at the same time.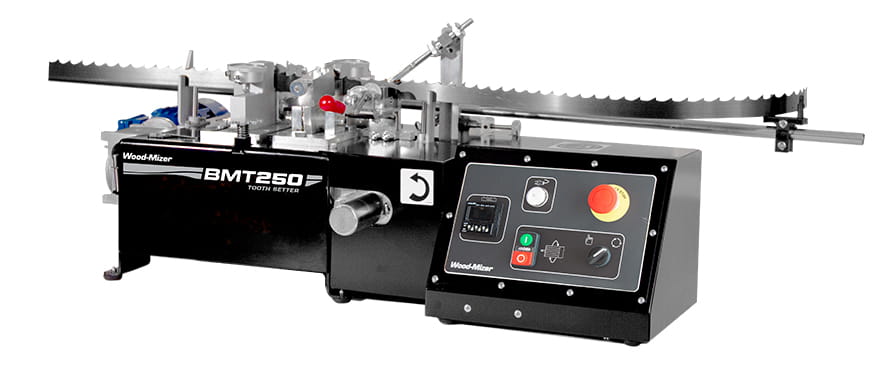 The BMT200 or BMT250 is an ideal dual toothsetter that quickly sets blade teeth with a manual or automatic configuration.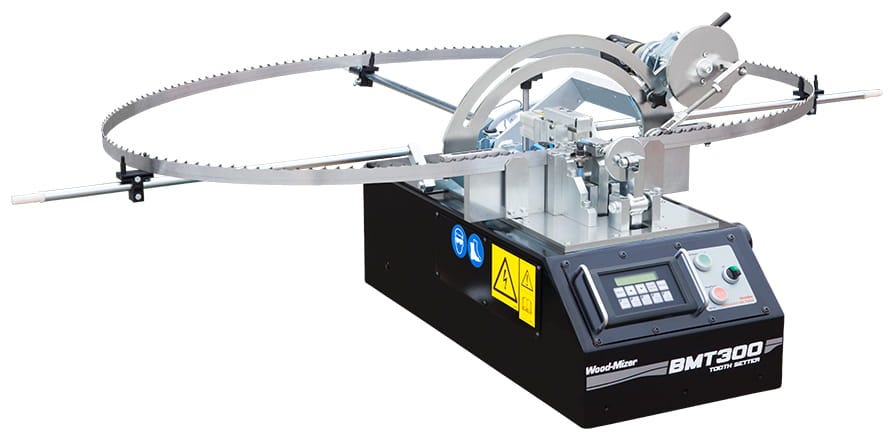 The computerised pneumatic BMT300 toothsetter is designed for industrial tooth setting.
Wood-Mizer ReSharp
Although maintaining your own blades can provide faster turnaround, Wood- Mizer's ReSharp is a very popular service, returning blades to factory conditions by washing, grinding, and setting on the same equipment used to manufacture them initially. ReSharp is affordable and allows you to spend more time sawing. Contact your local Wood-Mizer representative for details.