The ultimate starter sawmill for hobbyists and small business
Economical sawmill designed for woodworking hobbyists and small businesses. LX50 utilizes rigid xFRAME with twin rail bed construction for simple and sturdy sawmilling.
Benefits
2-Year Sawmill Warranty
Made in Europe
Rigid xFRAME Mast
Head up/down
Description
LX50CLASSIC Sawmill
LX50 is the most affordable Twin Rail Sawmill from the LX family. This sawmill offers world renown Wood-Mizer build quality and cutting accuracy at a chainsaw mill price level.
Thin-kerf technology used in the LX50 is the most ecological way of cutting lumber and provides a very high yield. Using up to 1,07 mm blades requires minimal engine power to cut all types of wood. Electricity and petrol consumption is minimal.
Twin post frame is very stable, which ensures that maximum precision of cut is acquired. Quality of cut is as high as in any other Wood-Mizer sawmill. You will be able to cut wood for your own needs as well as for sale. LX50 throat size will allow you to produce a wide variety of products – with a maximum cant with of 40 cm.
Manual lubrication system and cloth pad keeps the blade, wheels and guide rollers clean from sawdust and pitch. In combination with manual blade guide arm and tension system, it eliminates any extra blade vibrations, that ensures precise cut every time.
Connecting LX50 to a sawdust extractor will make it easier to keep your place of work tidy and safer. 4" standard extraction port is compatible with majority of sawdust collection systems.
The LX50 cuts logs up to 66 cm in diameter and 3.8 m long with the standard bed. In order to cut longer logs, bed extensions can be added to extend the sawmill bed to any required cutting length. 1.53 m extensions are available to order optionally. 14 HP four stroke Kohler engine is very efficient and doesn't produce a lot of noise or fumes for work outside. 5 kW 3 phase electric motor achieves it's maximum productivity and is ideal for work in a small workshop.
Cutting height is adjusted by a crank.
Powerful gas engine and electric motor combined with thin-kerf bandsaw blades make cutting on LX50 easy on your back. The sawmill will cut through logs effortlessly.
LX50 is made in EU and comes with standard two years warranty.
We supply blades for soft and hardwood that will cover all your requirements. Sharpening service, spare parts and blades are available at your local dealer.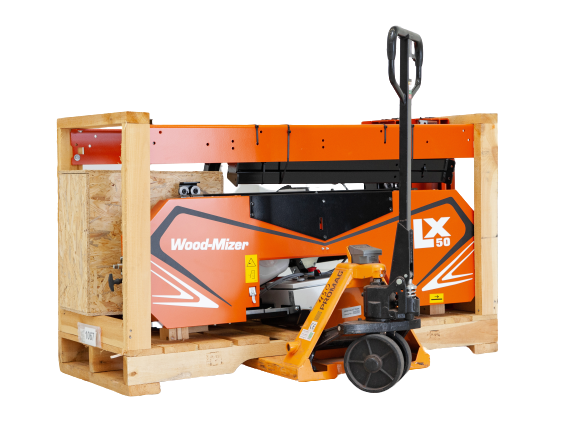 The sawmill is shipped on a small pallet (160 x 65 x 100 cm).
Simple to follow video and written instructions will allow you to start sawing quickly and easily.
Options
Additional Bed Sections
Videos
LX50CLASSIC Sawmill
Features
LX50CLASSIC Sawmill
Parts & Accessories
LX50CLASSIC Sawmill
Specifications
LX50CLASSIC Sawmill
Specifications
Power
Power
5.5 kW Electric14 HP Petrol
Cutting Capacity
Max. Log Diameter
66 cm
Max. Log Length
3.8 m (3 segments 1.53 m each, S3 Bed)
Max. Width of Cut
55 cm
Max. Cant Width
40 cm
Max. Depth of Cut
19 cm
Head Features and Options
Setworks
N/A
Head Up/Down
Hand Crank
Head Forward/Reverse
Manual Push
Blade Guide Arm
Manual
Blade Lubrication
Manual Valve
Blade Tension System
Screw with Indicator
Sawdust Collection Port Diameter
101.6 mm (4'')
Blade
Length
3340 mm
Width
32 mm
Thickness
0.9 mm1.00 mm1.07 mm
Blade Wheels
Blade Wheel Diameter
400 mm
Blade Wheel Type
Belted
Blade Wheel Material
Cast Iron
Bed Features and Options
Bed Construction
Twin Rail
Bed Extensions
Additional Bed Sections: 1.53 m
Bed Features
Adjustable legs
Log Handling
Manual
S3 Bed (3 segments 1.53 m each): 2 Side supports, 2 Manual Log Clamps
Sawmill Features and Options
Frame Construction
xFRAME
Power Requirements
3 Phases, 400 V, 50 Hz / 10.5 A (5.5 kW)
Standards
CE
Options
Log Loading RampsCant HookLog Wedge