Print
Add to Compare
EG100 Twin Blade Board Edger
Affordable Twin Blade Edger
The EG100 twin-blade edger is designed to be an affordable solution for sawmillers to boost their productivity.
Benefits
Is inexpensive to maintain.
Ultra-Compact Design
2 Circular Blades. 1 Adjustable Blade.
Description
EG100 Twin Blade Board Edger
The affordable EG100 edger is designed for workshops and professionals that want to improve production by edging boards and slabs.
This is a cost effective solution and a valuable addition to small to medium sawmills like the LX50, LT15 or LT20.
The EG100 is generally operated by two people, one to feed the edger, and the other to remove the finished product.
The operator control panel allows you to turn the edger on or off, and control the conveyor belt speed up to 14 m/min. This is useful when cutting various wood types and thicknesses. (On the petrol version, the conveyor speed is constant at 9 m/min)
This model allows the operator to cut boards up to 50 mm thick and 520 mm wide, with a maximum cutting width is 300 mm.
The standard specification includes two carbide-tipped circular blades. One of them is fixed, and the other is manually adjustable by lever. This allows you to quickly adjust the width of cut. The blades are easy to change.
The EG100 is available with 7.5 kW electric motor or 14 HP petrol engine.
Conveyors work together to move the board smoothly through the edger. The hold-down rollers keep the boards straight throughout cutting. The rubber wheels keep boards secured as they move through the edger.
The scale on the in-feed hold-down roller allows the operator to line up the board properly. When you're cutting boards that already have one straight side, you can drop the board fence down.
You can connect edger to your workshop extraction system to keep sawdust from building up.
The EG100 comes with industry-standard safety features. The anti-kickback fingers prevent boards from becoming any danger to the operator. The cover lifts up for easy access to the interior of the edger. If the machine cover is opened during use, it immediately shuts off.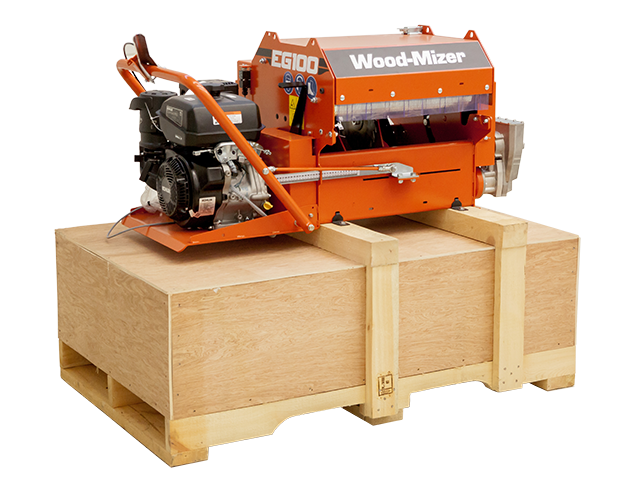 The EG100 is delivered on a pallet with minimal assembly required.
Pallet dimensions: 105 x 152 x 122 cm (W x L x H)
Videos
EG100 Twin Blade Board Edger
Features
EG100 Twin Blade Board Edger
Parts & Accessories
EG100 Twin Blade Board Edger
Specifications
EG100 Twin Blade Board Edger
Specifications
Power
Power
7.5 kW Electric14 HP Petrol
Cutting Capacity
Max. Material Width
520 mm
Max. Width of Cut
300 mm
Min. Width of Cut
40 mm
Max. Board Thickness
50 mm
Circular Blade
Blade Adjustment
Manual Blade Adjustment Lever
Number of Blades
2
Diameter
250 mm
Feed System
Speed
0 - 14 m/min9 m/min (Petrol Version)
Edger Features and Options
Standards
CE