Wood-Mizer Blade Spotlight: MaxFLEX Premium Bandsaw Blades

MaxFLEX is one of Wood-Mizer's brands for bandsaw blades. When Wood-Mizer designed this blade, the goal was to make a durable all-purpose sawmill blade with increased flexibility and extended blade life. Wood-Mizer specialists carefully selected specialized alloys from European steel producers to provide longer blade flex life and hardened every tooth tip with an induction process resulting in a tough blade for maximum sawing performance. Each tooth is precisely set by computer-controlled equipment and completely profile ground tip to tip using super abrasive CBN grinding technology.
During bench tests in the factory lab, these bandsaw blades demonstrated significantly better resistance to bending stress than other blades. When it was time for additional field testing, MaxFLEX sawmill blades were made available for Wood-Mizer sawmills worldwide.
The Czech company, Drevodiskont, processes pine and spruce wood with an LT20 hydraulic sawmill, followed by an EG300 board edger. This company used DoubleHARD sawmill blades, but when MaxFLEX blades were launched in 2014, they agreed to try them out. The Drevodiskont production chief, Mr. Radek Tausch, arranged the testing of the new blades and, after the necessary measurements, found that with MaxFLEX blades, it was possible to cut faster. "The sawing speed has increased, while the board quality is still high, there are no 'wave' boards. As a result, every day we cut 1 cubic meter more logs," said Radek.
The Bulgarian company, Steel MS, operates two Wood-Mizer LT20 hydraulic sawmills for producing structural elements for builders from local softwoods and timber for furniture makers from hardwoods. In 2015, they received MaxFLEX sawmill blades for trial. "With this blade, the cutting speed is higher," Stanislav Dimitrov Penev, the company co-owner, confirmed. "We saw about 8 cubic meters in 10 hours on each LT20 machine."
In this way, MaxFLEX sawmill blades create a competitive advantage for sawmillers by increasing productivity through high sawing speeds. This was fully appreciated by companies for which high productivity and high quality are essential simultaneously, mainly when producing timber for export. There are many of these sawmills in Romania, and they have made a clear choice in favor of MaxFLEX. In the years since the launch of MaxFLEX, it has become the most popular Wood-Mizer sawmill blade in Romania.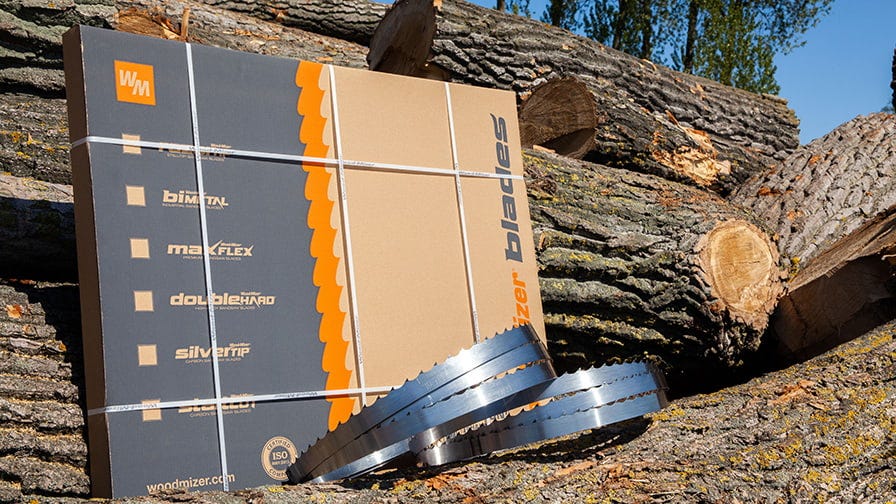 "The MaxFLEX blade, as its name suggests, is stable during cutting and at the same time flexible," says Wood-Mizer Poland customer service specialist Robert Fret. "MaxFLEX is a premium blade, and we get a lot of positive feedback from users. When service technicians visit a customer, they often hear the customer proudly saying that he is cutting wood with MaxFLEX blades."
All MaxFLEX blades feature a 10° hook angle (10/30 tooth profile) and 22,225mm tooth spacing. These blades are available in 1.07mm or 1.14mm thickness and 32mm, 35mm, or 38mm width. The MaxFLEX blades are welded in custom length and delivered ready to use.
Wood-Mizer currently offers the following blade series:
SilverTIP, Carbon: Ideal blade for primary and secondary breakdown.
DoubleHARD, High-Alloy: All-purpose, durable blade for most sawing applications.
MaxFLEX, Premium: Durable, all-purpose blade made with specialized alloy for longer blade flex life.
BiMETAL, Industrial: Heavy-duty blade for production sawing. Provides a longer sawing blade life, especially for cutting abrasive, exotic wood species.
Contact your Wood-Mizer representative for more information about bandsaw blades and pricing.
***