Wood-Mizer Industrial Sawmilling Systems
By Wood-Mizer, Europe

INCREASE EFFICIENCY WITH HIGH-YIELD, SIMPLE DESIGN, LOW-COST TITAN EQUIPMENT
Wood-Mizer industrial sawmilling equipment provides high yield, simple design, low-cost sawing systems that can process wood without sorting and debarking. Wood-Mizer's industrial lines have proven their success in limited production space with a low energy consumption. There are several key benefits of Wood-Mizer equipment that allows to generate profit and significantly improve efficiency in high volume sawmilling.
The Wood-Mizer industrial team provides expertise to develop custom sawmilling lines globally. High volume wood processing lines can be developed efficiently thanks to the team's global experience in designing, producing and installing at customer's locations.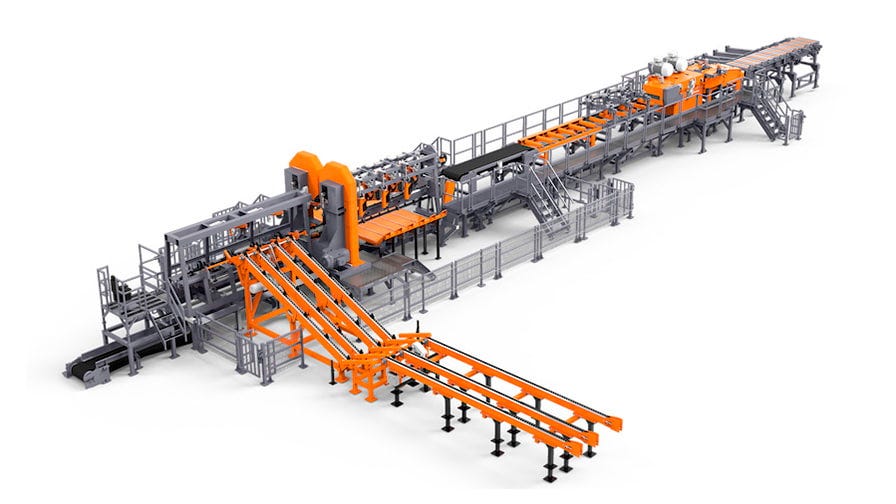 Benefit 1. Increased log diameter up to 45 cm
The Wood-Mizer industrial line can process logs up to 45 cm in diameter, compared to most competitors' maximum limit of 35 cm. Larger diameter logs are less expensive per cm and more timber can be produced from each log. Sawmill managers should always be looking for ways to reduce production costs. The Wood-Mizer line makes it possible by processing larger and therefore less expensive logs.
Benefit 2. No log sorting
The Wood-Mizer line can process logs with a diameter from 15 cm to 45 cm without pre-sorting. Without sorting equipment there is no additional investment, no expenses for energy and personnel servicing this equipment, and there is no need for additional space where the sorting line would stand.
Benefit 3. No log storage
As a result of no log sorting equipment, the Wood-Mizer line loading system is designed to operate without log storage. While the line can process up to 120 m3 of timber per eight-hour shift, the daily log delivery should be 4 trucks of 30 m3 each. A truck arriving every 2 hours can be unloaded right into the sawmill loading deck which can store up to 60 m3 of logs.

Benefit 4. No debarker required
In addition to providing great savings in sorting, storage and production space, the Wood-Mizer line can also process logs with bark. This directly translates to labor and energy cost savings as well as the cost of the line itself.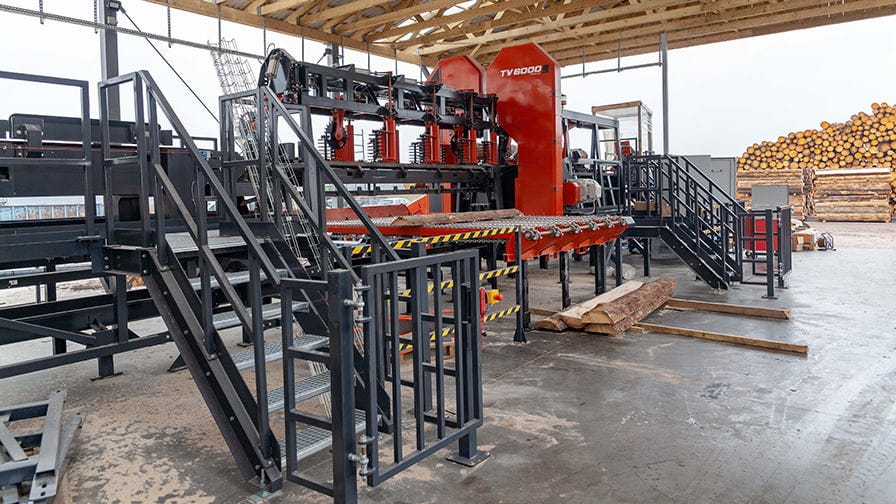 What sawmills are included into a Wood-Mizer line?
The Wood-Mizer industrial line can be built in various configurations and can include vertical twin sawmills, horizontal resaws, edgers / multirips and material transfer systems. Wide band sawmills use 75-150 mm width bandsaw blades.
Wood-Mizer engineers the industrial line for efficiency and growth, increased sawing speed, reduced labor costs, and making machines "smarter" by optimizing hydraulic systems and engine power to reduce cost of the equipment without a compromising functionality.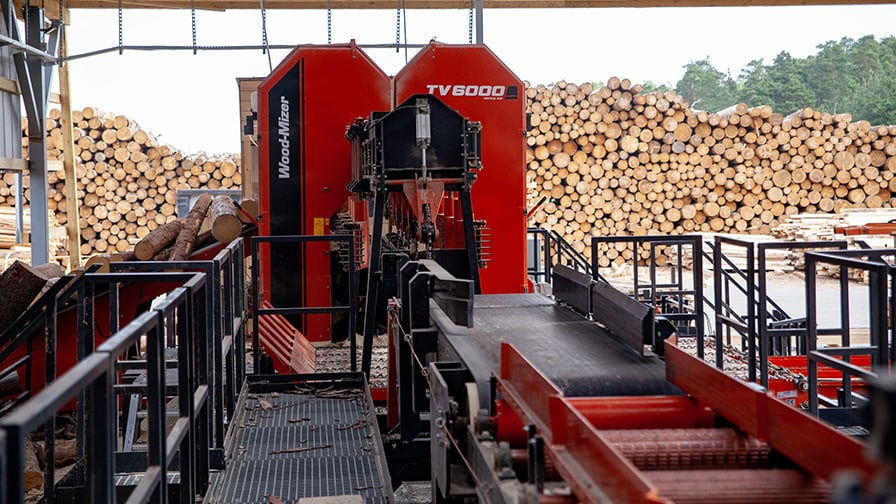 Wood-Mizer industrial equipment features
Here are some examples of Wood-Mizer industrial sawmills: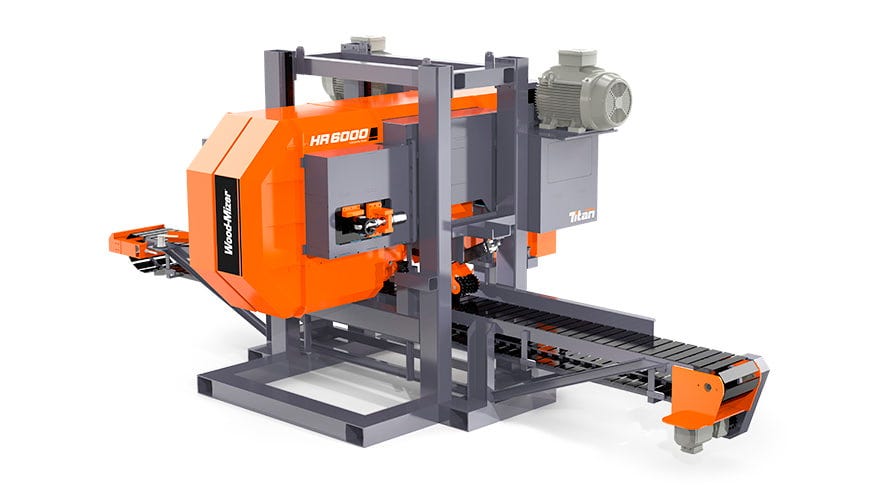 Industrial horizontal resaws HR4000 and HR6000 are produced in one or two head configurations and provide a high speed adjustment to the required board size within 0.3 seconds by use of an electric servo-motor system. These machines are capable of sawing more than 20 timber pieces per minute (depending on the length) with a feed speed of 40 m / min. The sawmills use wide band blades of 100 mm or 150 mm, with swaged or Stellite-tipped teeth.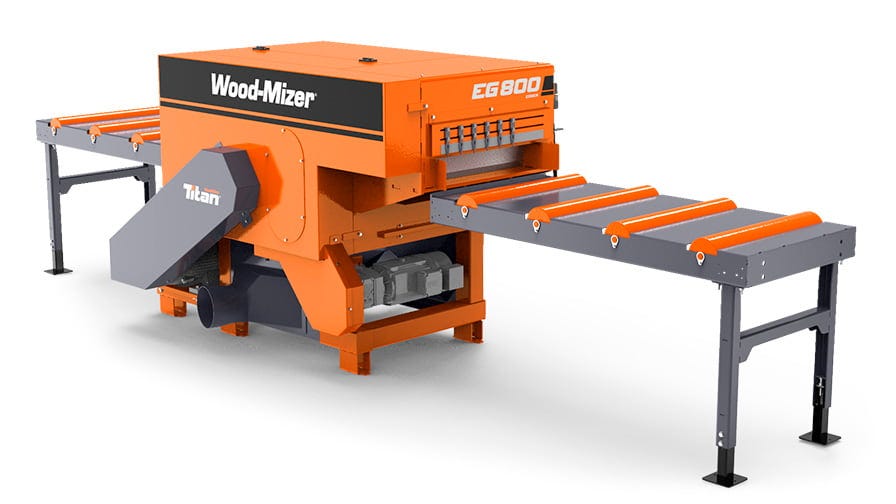 Industrial EG800 edger / multirip is equipped with 4 circular saws as standard, with the option to install additional saws. With 4 circular saws, the EG800 can process timber up to 40 mm thickness at a feed speed of up to 60 m/min, or cut beams up to 100 mm thickness at a slower feed speed. The EG800 features a variable feed rate and can be supplied with 30kW, 37kW, 45kW or 55kW motor.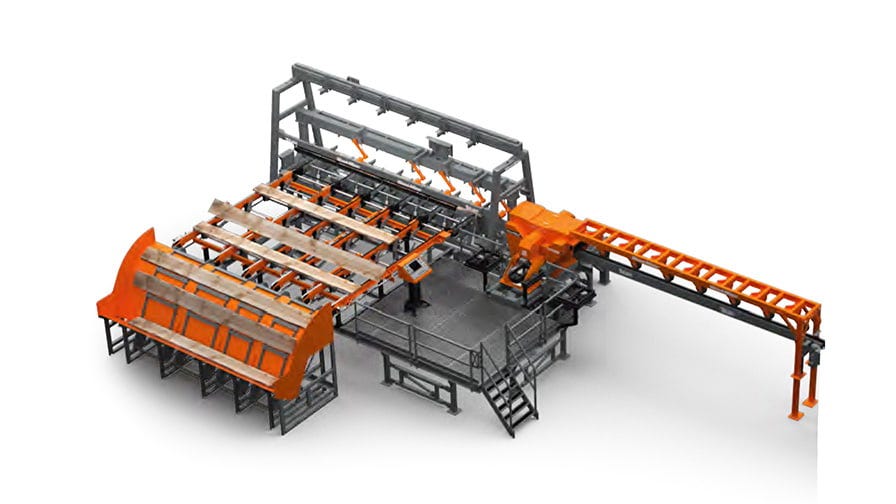 The visual optimized scanning systems can be applied to increase yield and timber quality. The Wood-Mizer EA3000 Optimizing Edger uses advanced camera scanning technology to achieve high precision and low waste when edging boards. The entire edging process is automated – from feeding boards to scanning and sawing. It can handle up to 20 boards per minute.
Each Wood-Mizer industrial line is designed to meet specific customer's needs in the optimal way. This line installed at a Polish woodworking factory includes a TV6000 Twinband Vertical Sawmill with a Hydraulic Log Turner (1), a MR3000 Multirip with a Cant Centralizing Table (2), a HR500 Horizontal Resaw, a Log Deck (3), a Slab Transfer Deck (4), an Operator Platform (5), and a Sawdust Collection conveyor (6) for the entire line.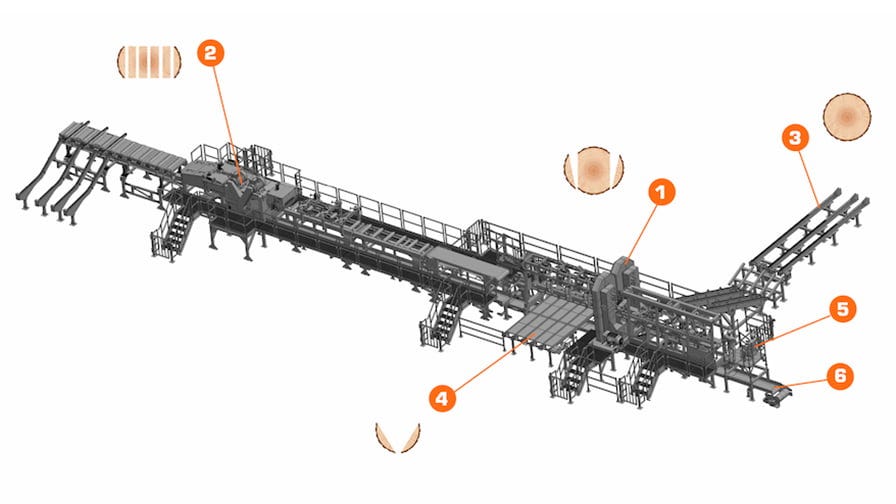 If you are upgrading a sawmill or plan to create a modern sawmilling line from scratch, contact the Wood-Mizer Industrial Equipment Sales Department, Mr. Adam Kubiak for more information.