Wood-Mizer Four-Sided Planer Moulders Product Overview
By Mareks Lomako, Wood-Mizer

Wood-Mizer offers a range of 4-sided planer moulders. This article will help you to understand the difference between them and make an informed buying decision.
The smallest and most affordable four-sided planer moulder from Wood-Mizer is offered in two options – MP260ECO and MP260PRO.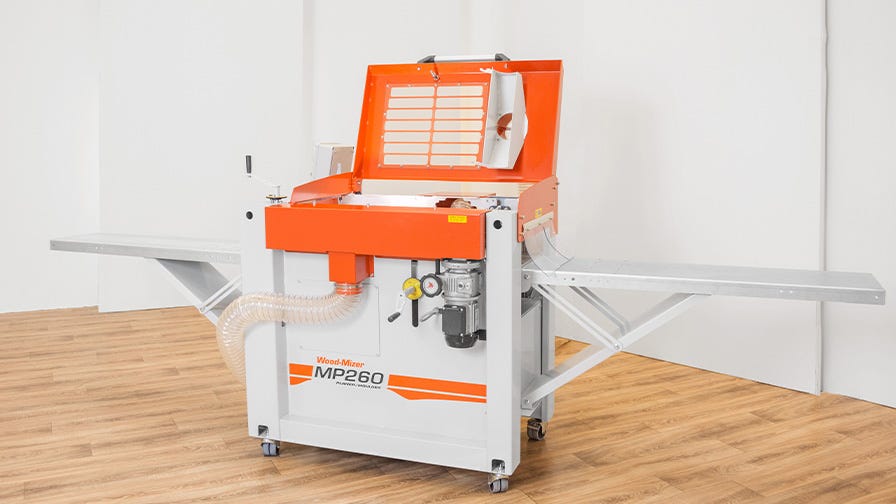 The MP260ECO is a basic 4-sided planer moulder while the MP260PRO features 2 main upgrades:
A variable feed speed of 2-11 m/min helps with production efficiency and provides a better surface finish when working with large hardwood surfaces.
The top horizontal cutter is driven by a larger 4 kW motor allowing for a smoother finish at higher feed rates.
Two bigger 4-sided planer moulder models are available for quicker material planing and moulding at a higher capacity – MP360 and MP365.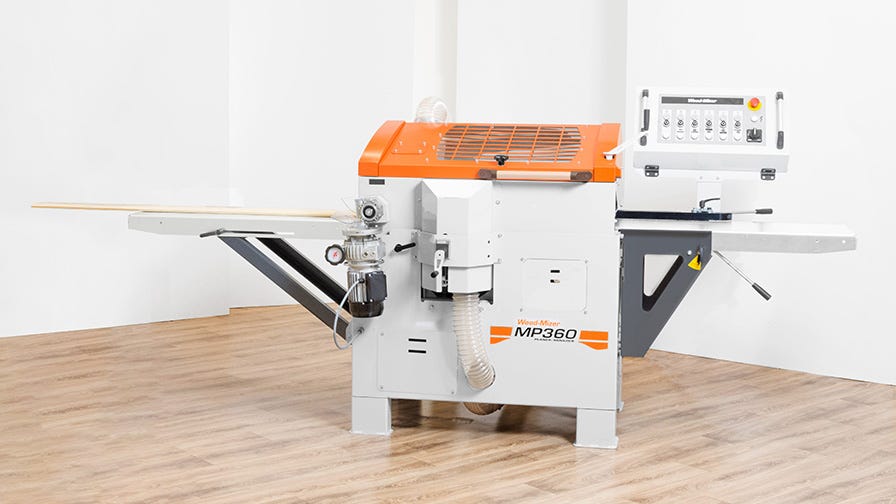 The MP360 features 3 main upgrades compared to the MP260:
Higher material throughput capacity.
More powerful motors for horizontal cutters and bigger feed rollers.
Easy and fast adjustment without stopping the machine.
The MP365 is a unique 5-head 4-sided planer moulder that is driven by 5 separate motors (the 6th motor is for feeding). The unique design allows for additional cutting and secondary processing tools on its 5th spindle. This enables you to use a higher feed rate, while using cutting tools that require 3000, 6000, 9000, or 14000 RPM to create exclusive mouldings easily in one pass. The fifth spindle is located just before the top horizontal cutter and can tilt up to 270 degrees. With a separate cover, the fifth spindle is also easily accessible.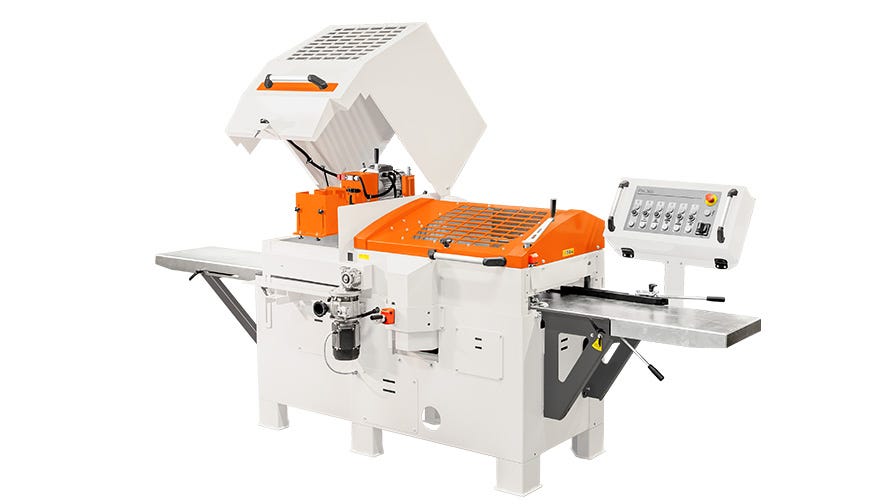 Easy to change knives
With every Wood-Mizer planer moulder, it is very easy to change knives in all cutter heads. Depending on the number of knives, it only takes 10 to 20 minutes to change profiles. All four cutters can be easily accessed by opening the top cover.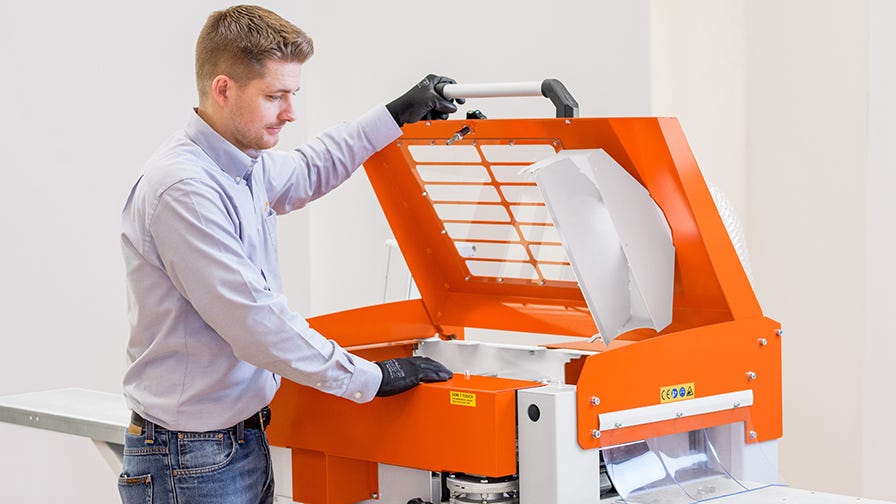 The fifth spindle is located just before the outfeed table and can tilt up to 270 degrees. With a separate cover, the fifth spindle is also easily accessible.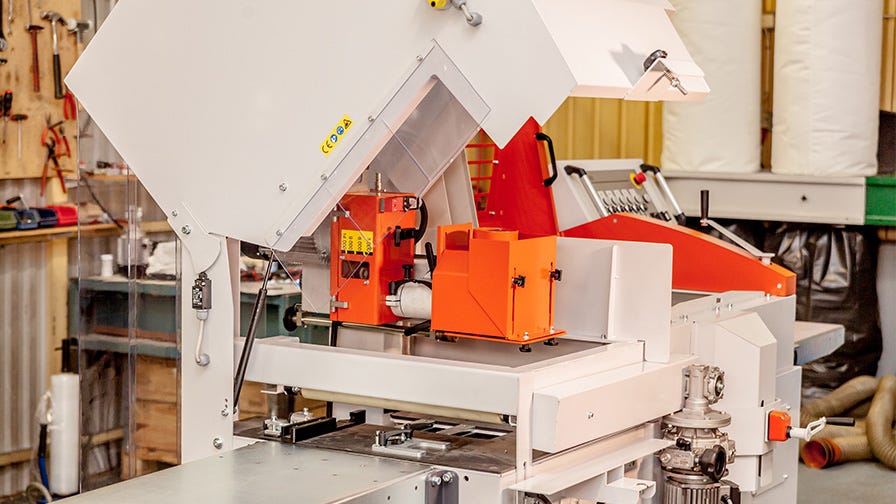 All side cutter knives feature mounting holes, which allow you to position knives in the same place every time for consistent moulding.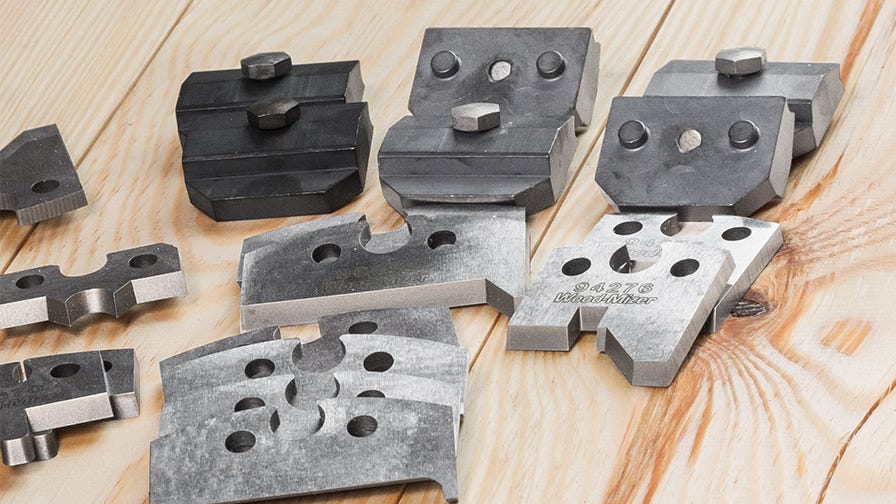 The height of cutters is adjusted using shims and spacers. Wood-Mizer offers a range of planing and moulding knives made from HM (carbide tipped) and HSS steel. It is recommended using HM knives for plywood, HDF, MDF, and other engineered wood products. HSS knives are for planing and moulding softwood and hardwood species. All four-sided planer moulders are supplied with two HSS planning knives in every cutter at the time of purchase. Custom shaped profiling knives can be ordered from Wood-Mizer dealers.
Feed Rollers
Multiple feed rollers press down on the board and move it through the machine. Even if the board is slightly bowed, the feed rollers will hold it down flat, so you get a consistent profile from end to end. The first four rollers are made of grooved steel, and the last roller (last 3 rollers on the MP365) has polyurethane coating so that your finished profile isn't damaged. Steel rollers can be optionally swapped for polyurethane-coated feed rollers if you are working with more expensive species of wood.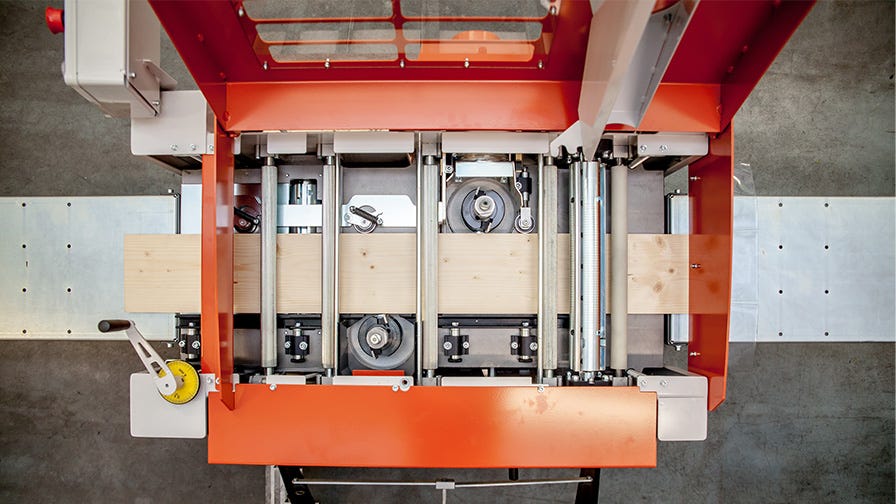 The five head MP365 four-sided planer moulder features two additional polyurethane feed rollers.
Variable Feed Rate
The variable rate feed system is driven by a separate motor.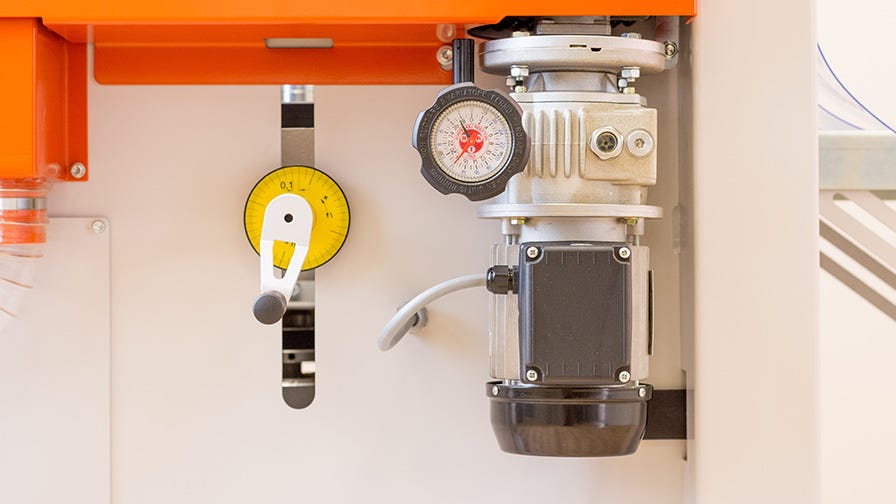 A planetary gear train allows for very efficient energy transmission to the feed rollers. The gearbox features an oil sight glass to monitor the oil level for easy maintenance. The feed rates are as follows:
MP260ECO is set to 5 m/min
MP260 can be adjusted from 2-11 m/min
MP360 can be adjusted from 3-15 m/min
MP365 can be adjusted from 3-15 m/min
The motor is mounted on the planer moulder in a way that allows it to lightly swing when the feed system is engaged or to grip a board to eliminate possible damage and any additional vibration.
Setting Cutting Height
The cutting height is easily adjusted with a manual hand crank which turns 4 threaded rods to move the following:
the top of the planer moulder; this changes the position of the top horizontal cutter on the MP360 and MP365. Both models feature enhanced threaded rods compared to MP260 models.
the cast iron table including the bottom horizontal cutter and side cutters on the MP260ECO and MP260.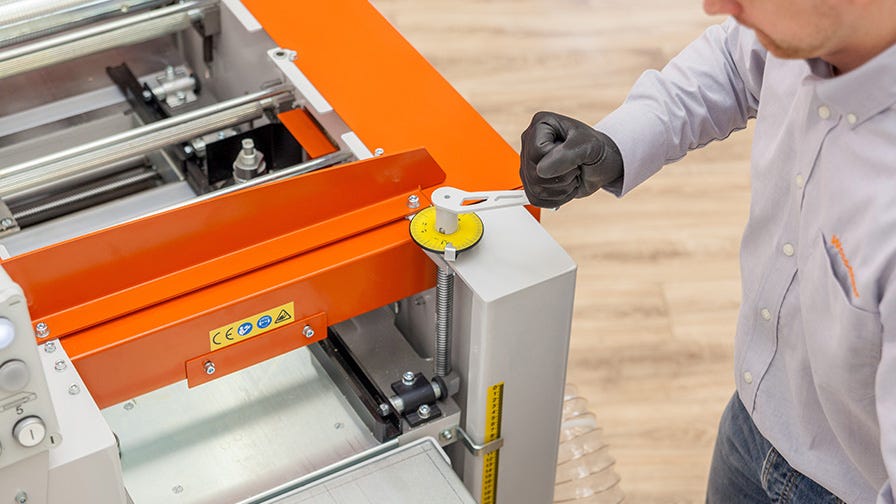 On the MP260, the bottom horizontal cutter is fixed to the cast iron table. The cutting depth of the lower cutter is set by adding or removing the adjusting steel plates located on the cast iron planer table in front of the lower cutter (max takeoff 4 mm).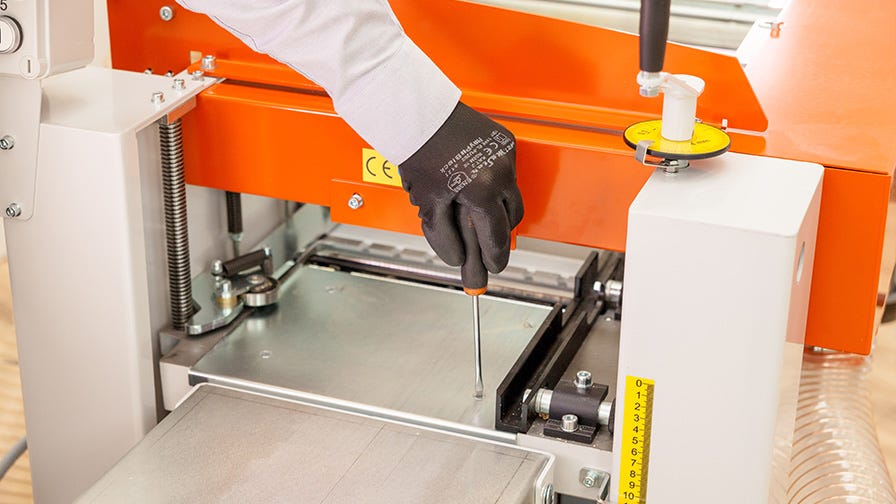 Metal plates with different thicknesses are supplied with each planer moulder and can be easily switched. On the MP360 and MP365, the bottom horizontal cutter can be adjusted without turning the machines off via a lever that sets the infeed table height (max takeoff 8 mm).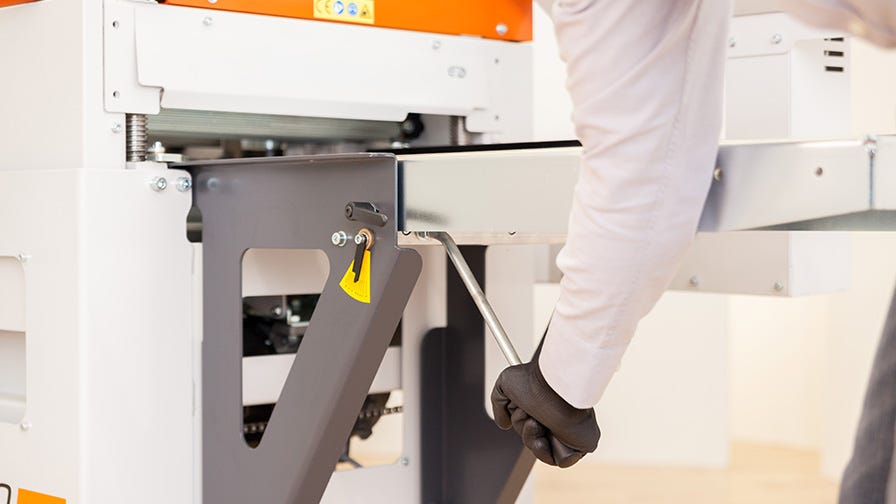 Both horizontal cutters can be equipped with planing and/or moulding knives. All planer moulders in the Wood-Mizer range use shims and spacers to adjust the height of side cutters.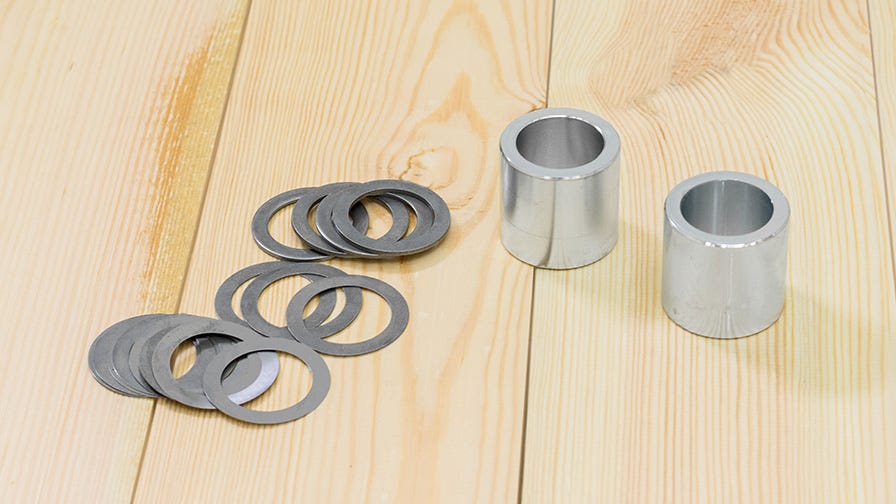 Heavy-duty Construction
Wood-Mizer planer moulders are built using a combination of steel and cast iron. The cast iron parts provide high vibration damping, long-lasting durability, non-stick capabilities, and resistance to deformation. Cast iron is used for planing and moulding tables (inside the planer moulder between cutters).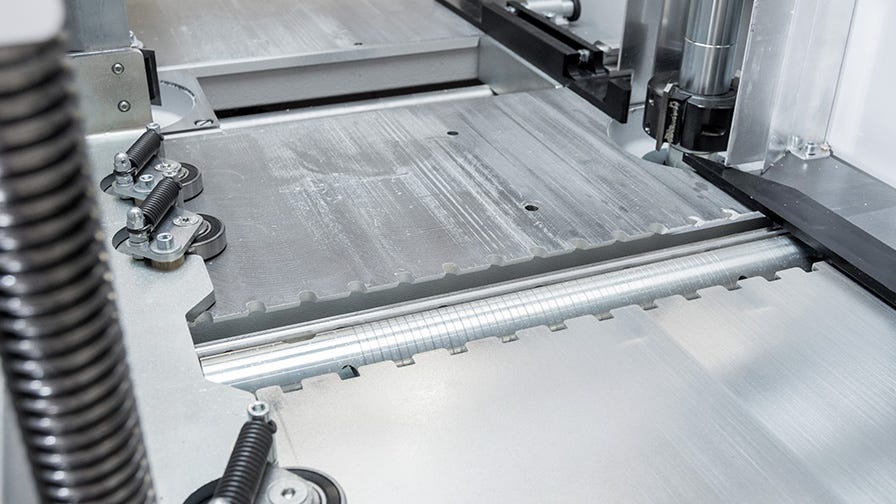 Customer can use a cast iron surface lubricant that protects the surface from corrosion and decreases material friction is available. Steel parts of the planer moulders are corrosion resistant and highly durable. Steel has a very high strength to weight ratio.
The MP260 can be optionally fitted with 4 caster wheels, which makes these machines very portable.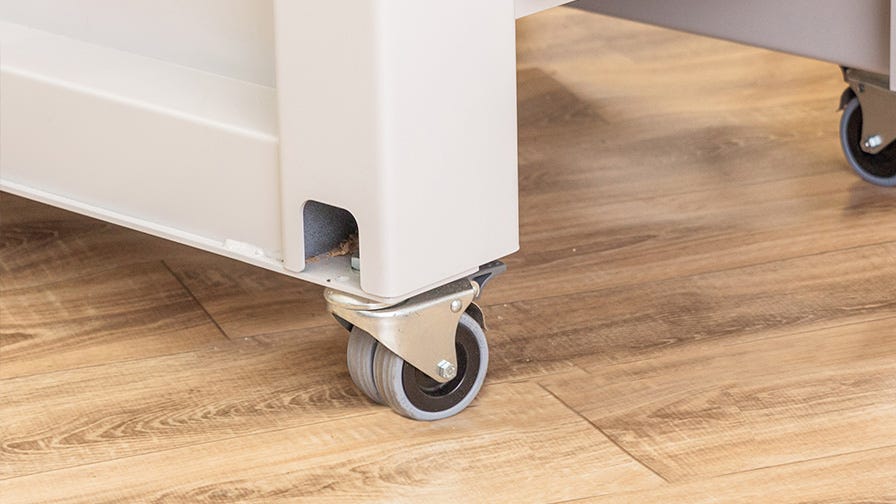 The MP360 and MP365 construction allow them to be easily lifted and moved by a forklift.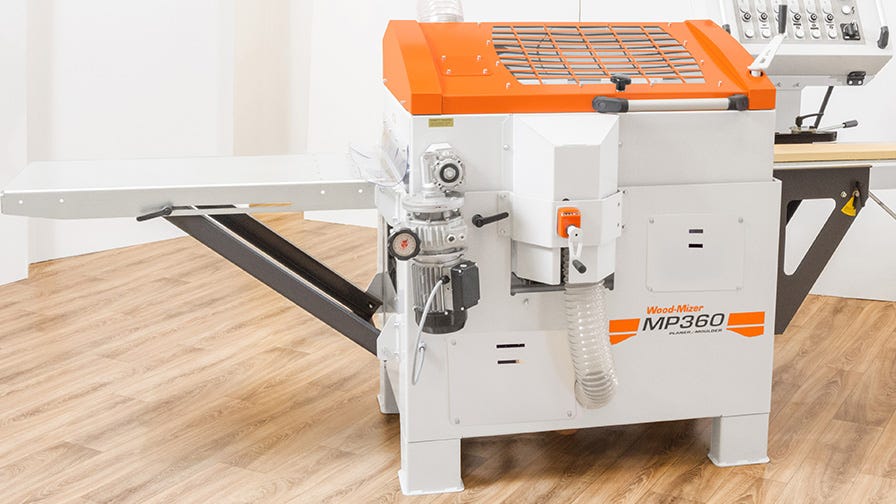 Cutting Heads
Both side cutters complete the same function on their respective models.
The MP260 side cutters are 91 mm diameter with knives and up to 100 mm height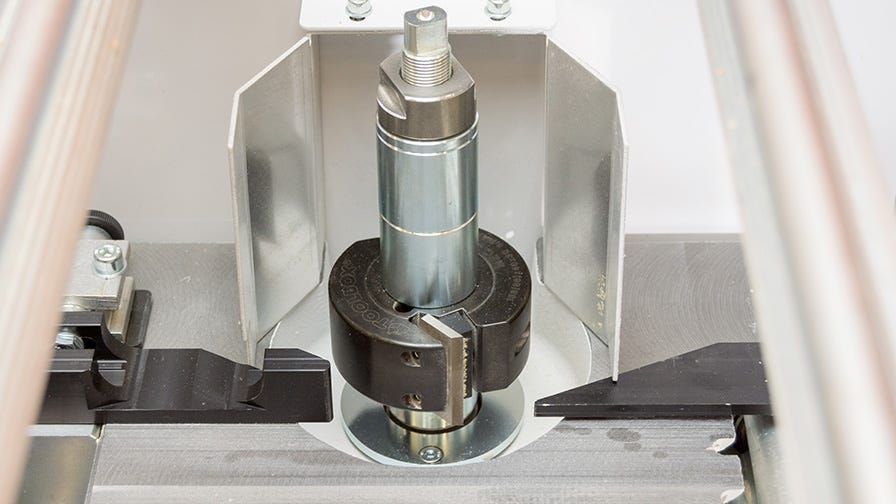 The MP360 and MP365 side cutters are 91 mm diameter with knives and up to 160 mm height
The fifth universal spindle on MP365 is 30 mm diameter, optionally other spindles can be installed which allows the use of different tools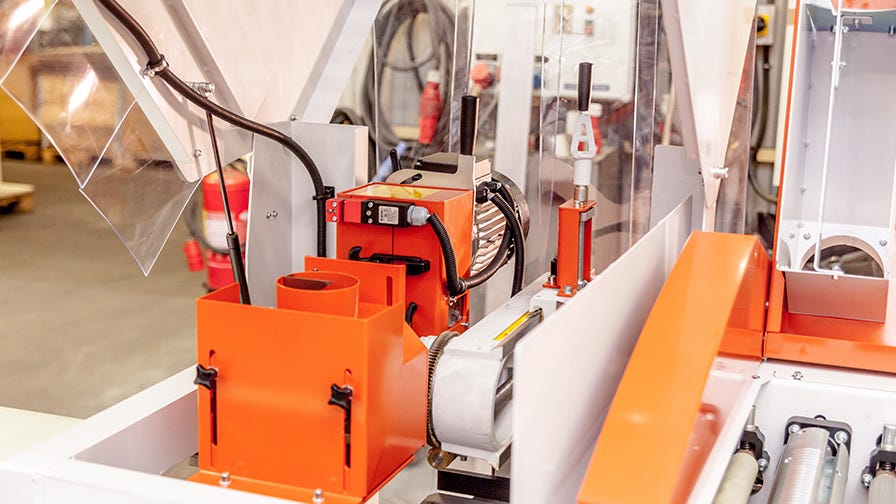 Cutters can be taken out by releasing one locking nut on top of the standard 30 mm spindle. Many customers choose to buy extra side cutter heads to make changing from one profile to another less time-consuming. Different height and configuration (with 2, 3, or 4 knife slots, 40 mm, 100 mm, 130 mm or 160 mm tall) side cutters are optionally available as well.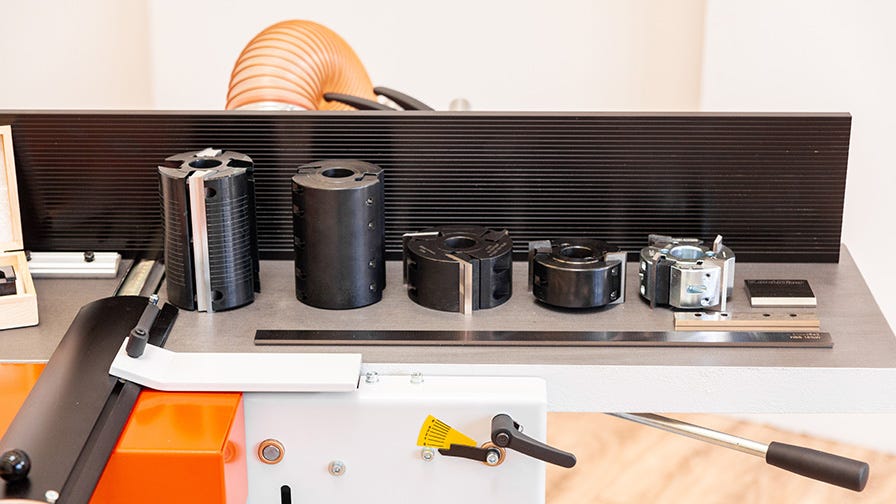 Each cutter head is driven by a separate 3 kW motor.
The left side cutter is movable, and its position can be adjusted by a crank
The MP260 features a relative scale on the crank for easier positioning
The MP360 and MP365 features a mechanical counter that shows its exact position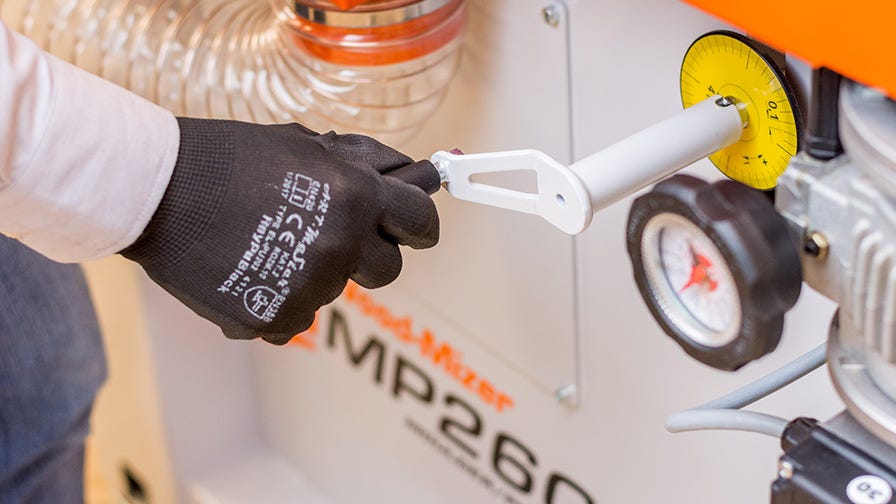 The right-side cutter varies based on the model:
On the MP260, it is fixed in place and takeoff is adjusted by moving a fence on the infeed side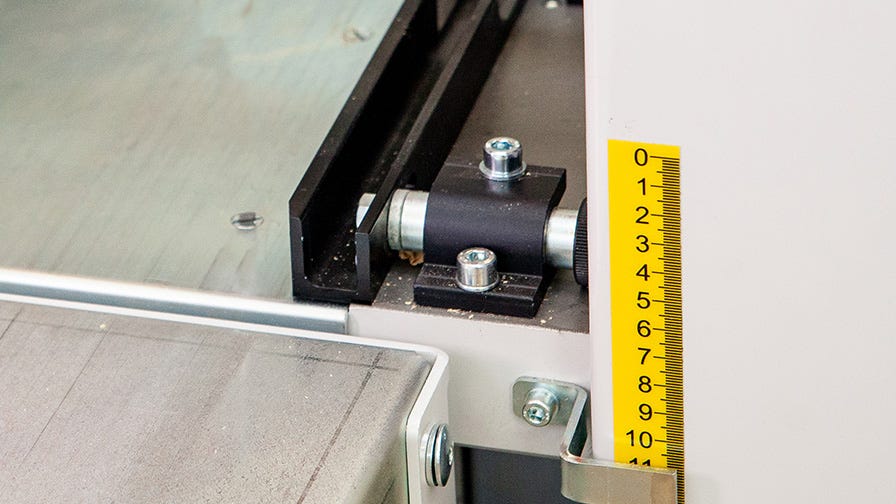 IOn the MP360 and MP365, it is adjusted by a crank and can be moved while the machine is running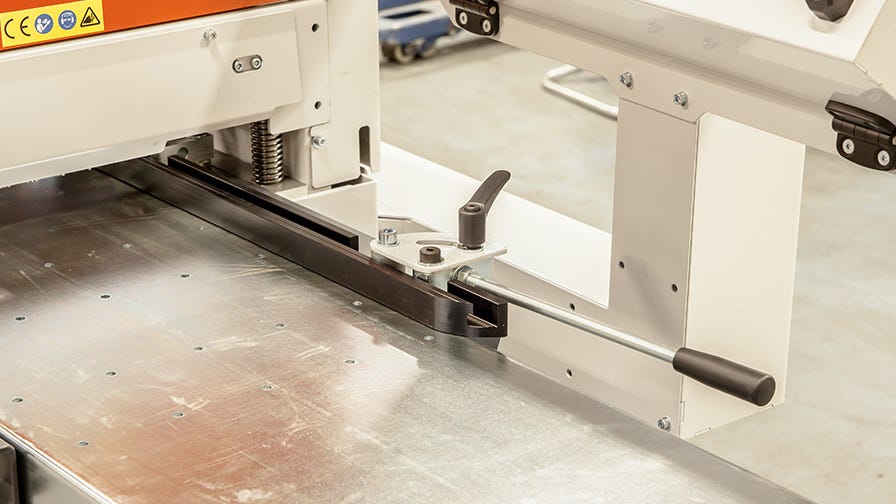 The fifth universal spindle on the MP365 can tilt up to 270 degrees and reach material from all sides.
Top horizontal cutter capacities are as follows
The MP260 has a 72 mm diameter and 410 mm wide top horizontal cutter
The MP360 and MP365 have a 88 mm diameter and 510 mm wide top horizontal cutter
The bottom horizontal cutter dimensions are the following:
On the MP260, it is 72 mm diameter and 300 mm wide
On the MP360 and MP365, it is 72 mm diameter and 410 mm wide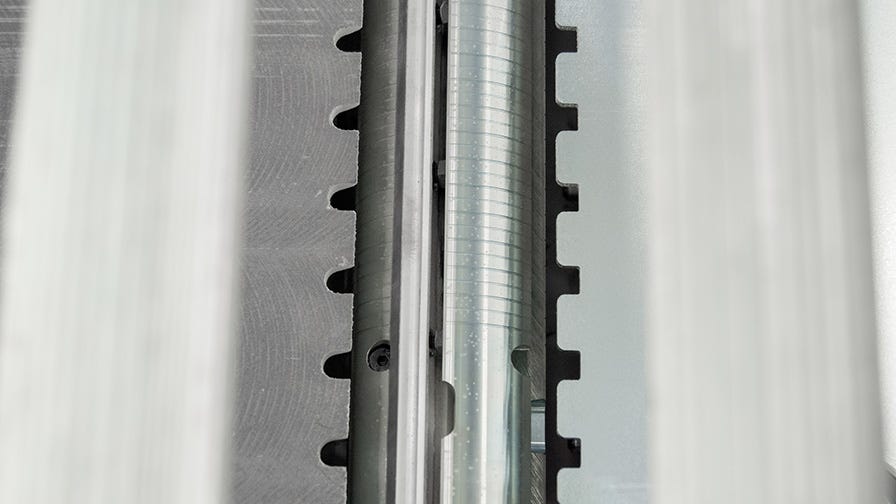 Both horizontal cutters can be mounted with planing and/or moulding knives that are held in place with gibs/wedges.
As a standard, we offer horizontal cutters with 4 knife slots and side cutters 40 mm height with 2 knife slots.
Multiple Extraction Points
Four-sided planer moulders have 4 dust extraction points (the MP365 includes 5 dust extraction points) that are located near each cutter, to keep chips from building up in the machine. The MP360 can have an optional 5th extraction point at the top cover. A superior dust collection allows for a good cut – wood chips do not build up around cutters or on feed rollers. Wood-Mizer offers a range of dust collection systems – from hoses to chip connections and fans.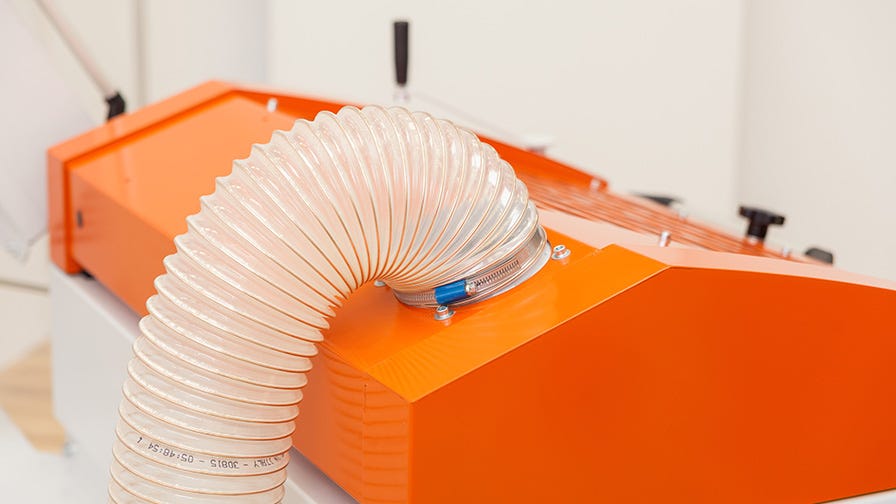 Large Viewing Window
The viewing window allows supervision of the entire cutting process from rough sawn boards to final products.
This is especially helpful when you start with a new moulding profile. The MP365 five head planer moulder features two overview windows, one over the main part of the machine and one on the extension, where the fifth universal spindle is located.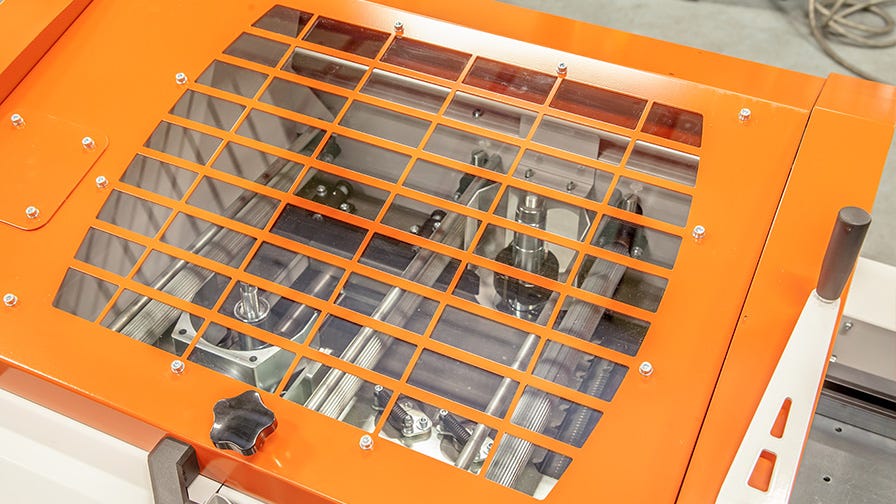 Centralized Control Panel
The control panel allows the operator to start/stop all cutters and power feed motor separately. This versatility helps to reduce electricity consumption and maintenance costs by using separate cutters when needed.
The MP360 features an extra button to connect your dust collection system for easier engagement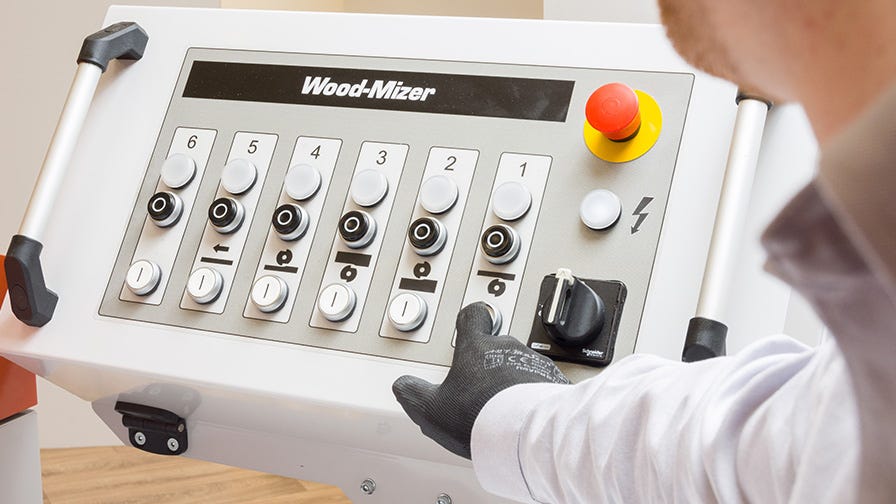 The control panel features an emergency stop button.
The MP260 top horizontal cutter is driven by a separate 4 kW motor (3 kW motor in MP260ECO), and the bottom is controlled by a 3 kW motor. The MP360 top horizontal cutter is driven by 5,5 kW motor and bottom cutter by 4 kW motor.
Large throughput capacity for a fraction of a cost
If your projects require planing and moulding of oversized timber, you can increase the throughput by running the top and bottom or the top cutter only. The Wood Mizer planer moulders range is designed with a small footprint and massive planing and moulding capability that can easily find a place anywhere from your DIY enthusiast to high production workshop.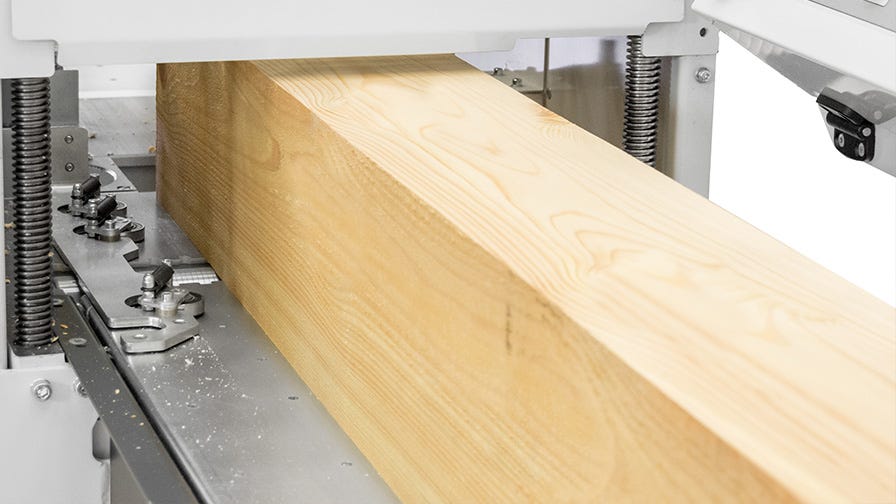 Comparing Wood-Mizer four-sided planer moulders specifications
MP260 ECO

MP260PRO

MP360

MP365

Number of spindles / cutters

4

4

4

5

4-sided moulding capacity

Max width

260 mm

260 mm
350 mm

350 mm

Max height

100 mm

100 mm
160 mm

160 mm

2-sided moulding capacity (limited by bottom cutter)

Max width

300 mm

300 mm
410 mm

410 mm

Max height

220 mm

220 mm
230 mm

230 mm

1-sided moulding or thicknessing capacity (the length of knives of top cutter)

Max width

410 mm

410 mm
510 mm

510 mm

Max Height

220 mm

220 mm
230 mm

230 mm

Adjustable angle

270 degrees

Total power consumption

12.2 kW

13.4 kW

16.25 kW

19.25 kW

Side cutters

3 kW

3 kW

3 kW

3 kW

Side spindle standard (diameter)

30 mm

30 mm

30 mm

30 mm

Side spindle maximum length

100 mm

100 mm

160 mm

160 mm

Top horizontal cutter

3 kW

4 kW

5.5 kW

5.5 kW

Top cutter diameter

72 mm

72 mm

88 mm

88 mm

Top cutter width

410 mm

410 mm

510 mm

510 mm

Bottom horizontal cutter

3 kW

3 kW

4 kW

4 kW

Bottom cutter diameter

72 mm

72 mm

72 mm

72 mm

Bottom cutter width

300 mm

300 mm

410 mm

410 mm

Fifth cutter

3 kW

Cutter RPM

6000 (side cutter)

6000 (side cutter)

6000 (side cutter)

6000 (5th cutter 3000, 6000, 9000, optionally 14000, a special gear must be ordered with the machine, similarly to MF130)

Weight

350

350

675

925

Feed speed

5 m/min

2-11 m/min

3-15 m/min

3-15 m/min

Max top cutter planing take-off

5 mm

5 mm

5 mm

5 mm

Max bottom cutter planing take-off

4 mm

4 mm

5 mm

5 mm